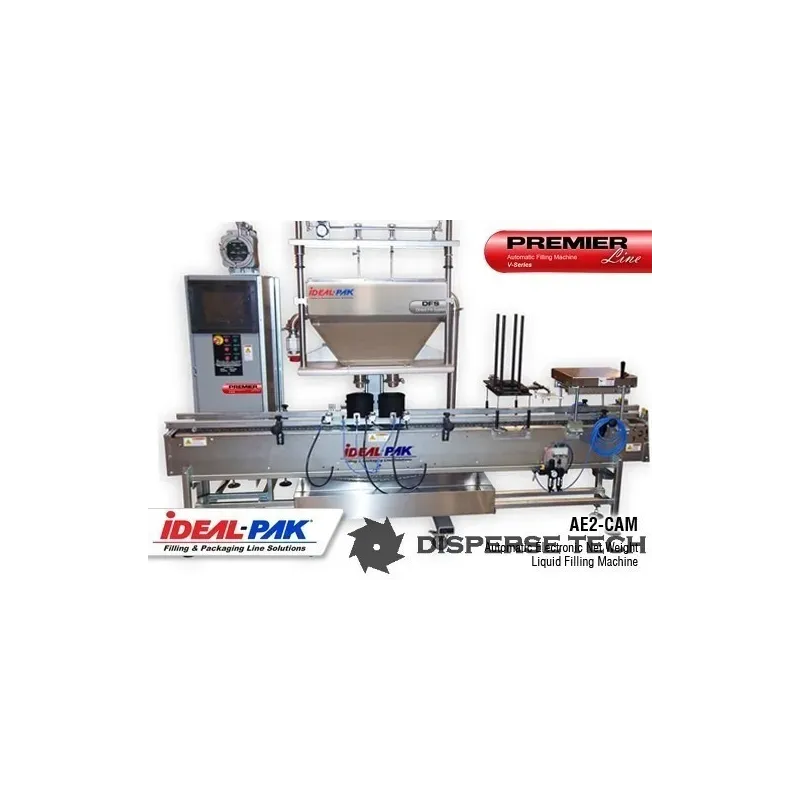  
Ideal-Pak Automatic Net Weight Filler
The Ideal-Pak AE Series, automatic filler delivers the highest of levels of automation and precision filling performance in a full-featured package. All Premier Line filling systems feature a large, color touch screen HMI with recipe storage, SPC with check-weigh data logging, and Ethernet connectivity for real time filling performance tracking and remote machine performance tracking.
The AE line consists of 6 models, AE1, AE2, AE3, AE4, AE6, AE8 with 1, 2, 3, 4, 6 and 8 filling heads in order to meet your specific performance requirements.  The AE1, AE2, and AE3 are typically supplied as inline fillers, while the AE4, AE6, and AE8 can be supplied with lateral transfer conveyor for increased speed.
The fillers come standard with a manifold product delivery system.  The Ideal-Pak patented DFS Direct Fill System offers an alternative to the manifold.  The DFS offers balanced flow and easier clean-up with less parts than the manifold filler.  The delivery systems can be attached to the filler or supplied as a separate DFS cart, or manifold cart to allow easy product change and remote cleaning.  
The fillers can be supplied with a variety of nozzles to meet your filling requirements.   These include cone nozzle, plug nozzle, fill lance, and shower nozzle.  
Various conveyor options are available, and unit can be supplied with integrated crimp closers, roller closers, and lid placers.  
No customer reviews for the moment.