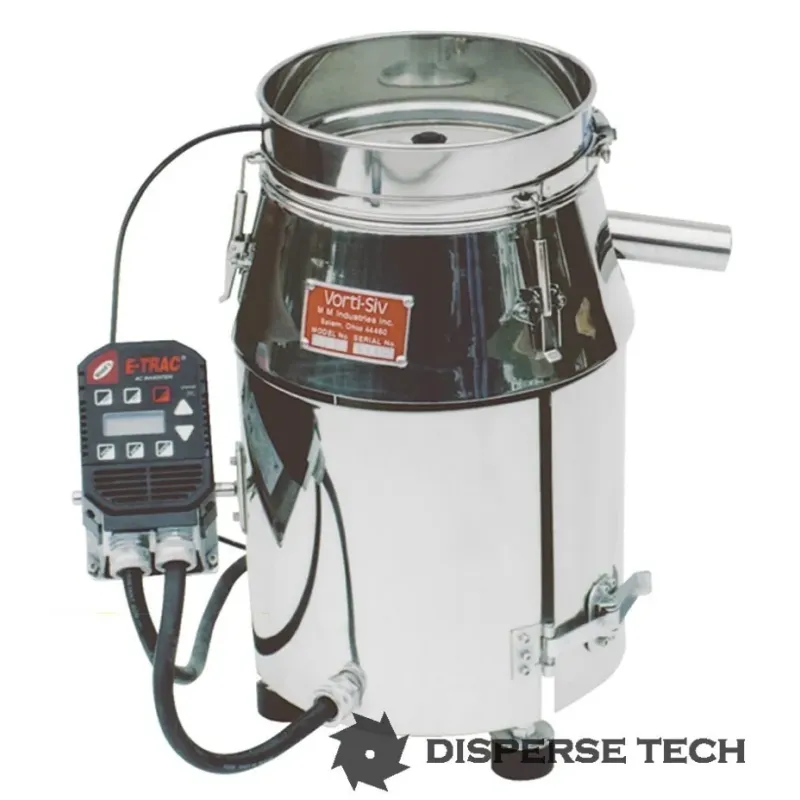  
VORTI-SIV Ultra-Sonic Deblinding System
Ultrasonic Deblinding System The Vorti-Siv® Division of MM Industries,Inc® has developed a fine mesh deblinding system utilizing high speed gyration and ultrasonics energy. A standard stainless steel removable probe is specially mounted to a bonded or soldered mesh screen assembly. The system is available on all Vorti-Siv® models ranging from 8″ & 10″ to 60″ screen diameters and in mesh sizes as fine as 20 microns. 8″ diameter sizes to 3 microns. The smaller fixed design utilizes an aluminum transducer. For 8″ to 24″ sizes. Additional details are highlighted with the Vorti-Siv RBF®-Lab Series.
MODEL SFA® The VORTI-SIV® Division of MM® Industries, Inc has developed a wet or dry deblinding system utilizing high- speed gyration (up to 3450 RPM) and ultrasonic energy. A special stainless steel transducer probe is either mounted to a pretensioned epoxy bonded mesh screen assembly or externally mounted to a non-contact clamp band or mesh ring. This 115/230 V A C x 37kHz generator system is available on all VORTI-SIV® models ranging from 8" to 48" screen diameters and with stainless steel woven wire apertures as fine as 20 microns. The SFA® system is adaptable to other separators.
No customer reviews for the moment.