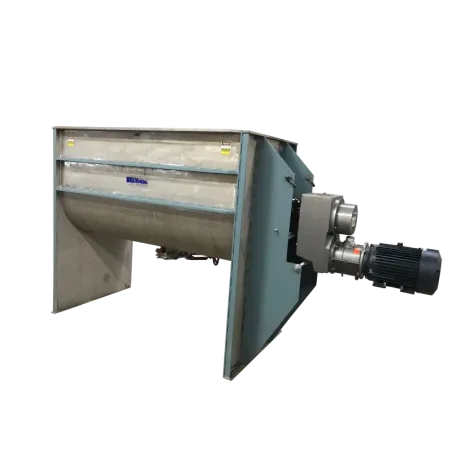  
Horizontal Ribbon Mixers
Young Industries has been manufacturing Ribbon Mixers since their founding in 1947. We offer the most complete line of mixers available to industrial users. Models range from one-half cubic foot laboratory mixers to production units with batch capacity up to 1500 cubic feet. Young Industries has ASME U & UM certifications for those mixing applications that require high pressure bodies or heating/cooling jackets. Our ability to custom design and manufacture mixers makes us a leader in mixing of powders.
Young Industries Horizontal Mixers are in use throughout industry in a wide variety of process applications. These mixers provide fast, thorough and accurate blending of dry, paste and liquid ingredients, including: chemicals, plastics, drugs, foods, insecticides, fertilizers, cosmetics, adhesives, pigments, and numerous other products.
Many of the Mixers are purchased based on the quality and uniformity of product blend that our mixers are able to achieve. The robust body and agitator design assures many years of service life for complete customer satisfaction. Our mixers have earned a reputation for being manufactured of the highest quality while offering long life with virtually maintenance-free operation.
These have a single agitator which is the most important part of the mixer.  All agitator types have at least one thing in common; the outer ribbon/paddle conveys material towards the discharge and the inner ribbon/paddle conveys material away from the discharge.  Young offers four standard agitator types: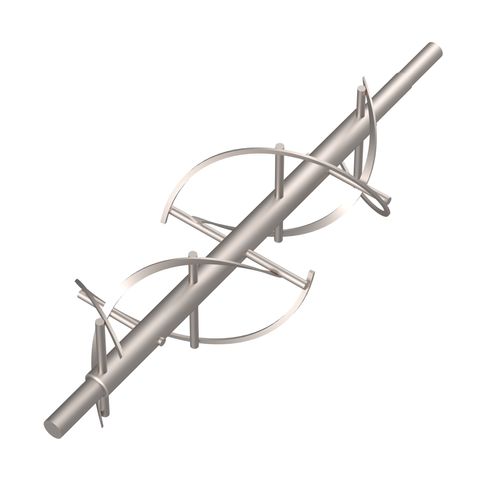 DOUBLE RIBBON AGITATORS
Two spiral ribbons are supported from the mixer shaft. The outside ribbons direct the flow toward the outlet, usually in the center. The inner ribbons direct the flow in an opposing direction away from the outlet.
This results in multiple mixing actions, the ribbons cut through the ingredients radially setting up a tumbling action. The difference in pitch direction, from the outer to inner ribbons, carries the product back and forth, end-to-end of the mixer. Turbulence at the ends and between the outer and inner ribbons, aids in the rapid mixing process.
The double ribbon agitator is widely used because it rapidly blends, without damaging ingredients of different characteristics such as size, weight and shape. Additives as small as 1% are distributed and mixed throughout the blend.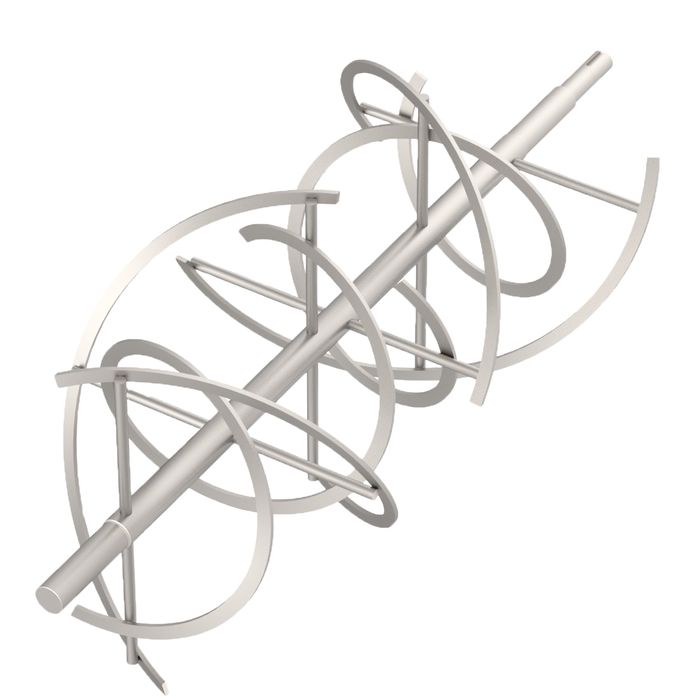 MULTI-PITCH DOUBLE RIBBON AGITATORS
The Multi-pitch agitator has two outer ribbons and a single inner ribbon. For every pitch of the outer ribbon, there are three pitches of the inner ribbon. This design produces an intense dynamic mixing action. The Multi-pitch agitator can typically blend products having different characteristics in size, weight and shape to a uniform blend.Additives less than 1% are disturbed and mixed throughout in less than 10 minutes. The Multi-pitch agitator is proven to provide the most efficient mixing of powders in the least amount of time.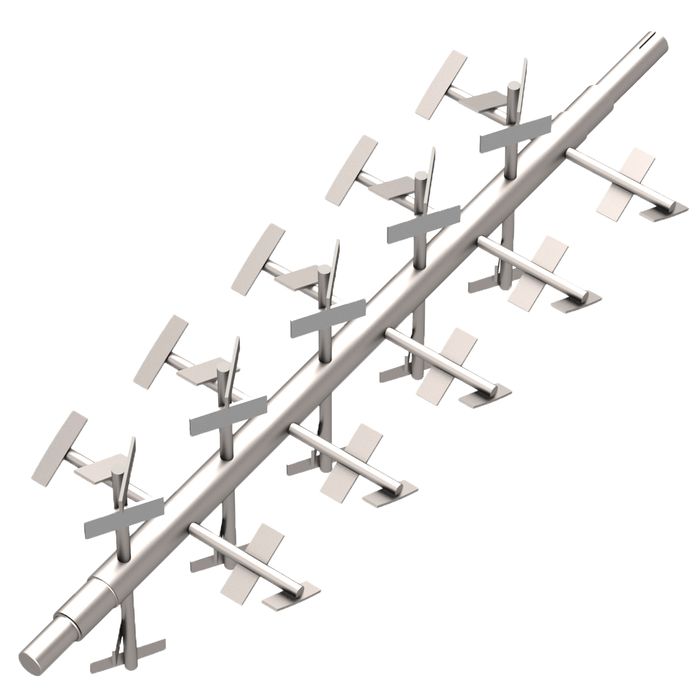 PADDLE AGITATORS
Paddle Agitators use either outer paddles or outer spiral ribbon, with a series of back mixing paddles replacing the inner spiral. This design is sometimes preferred when blending in liquid additives.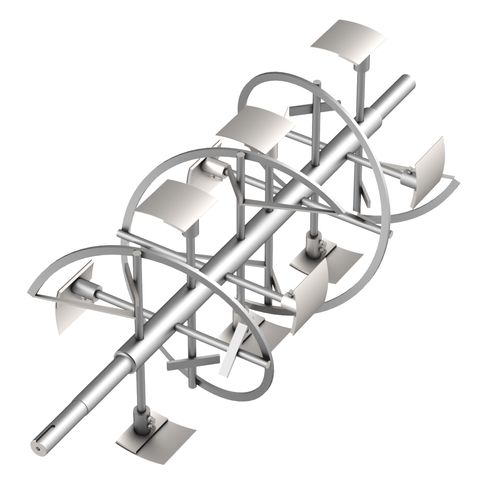 TROWEL AGITATORS
This type of agitator is similar to the ribbon and paddle type but incorporates special spatula-like trowels set very close to the mixer1 s Inner wall. These trowels rub out lumps or agglomerates in the mix, such as occur when hard shortening is added to ready-mix cake flour.
Three basic Mixing chambers are offered.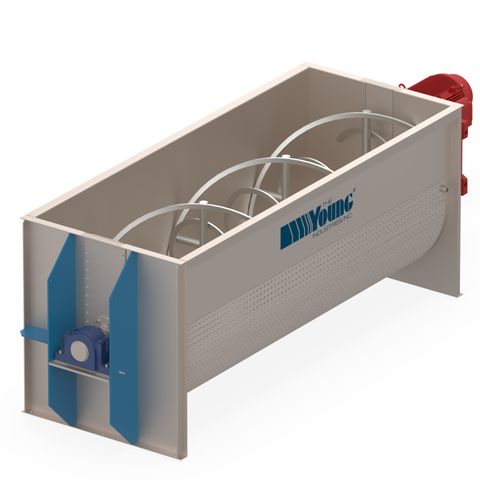 "U" Trough
The standard Ribbon Mixer is a "U"-Trough design. This design is used for ambient conditions or low pressure/vacuum mixing applications and utilizes a flat top cover. The cover can be supplied with inlet nozzles as needed and provisions for dry powder addition. This design allows agitator removal from either the top or end.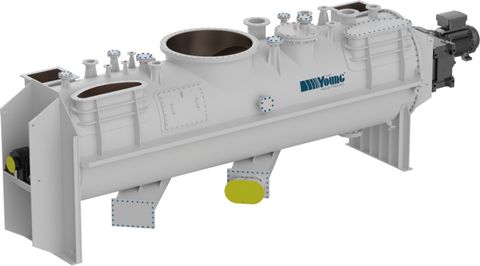 Obround
The Obround body has short vertical straight wall with top and bottom being semicircular. This design is used when extra volume is required for high pressure and vacuum service applications. This type of body is also used for those applications that may require an ASME code stamp. This design allows agitator removal from the end only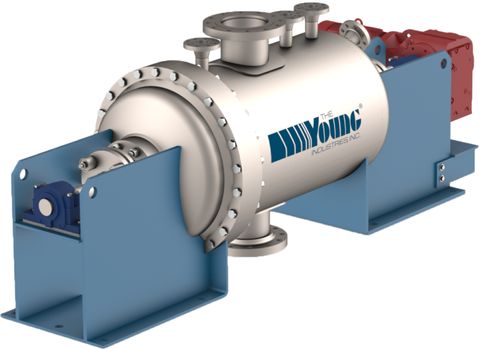 Cylindrical
For higher pressure or vacuum service Young Industries custom designs and manufactures Cylindrical body design. This type of body offers the strength needed for those applications that need anASME code stamp. Our engineers design the body specifically for the application. This design allows agitator removal from the end only.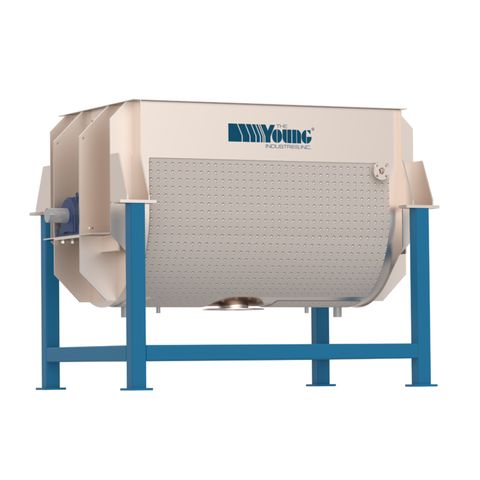 JACKETS are available on all mixers
Young Horizontal Mixers are equipped with jackets when the blending process requires heating, cooling, or drying of liquid ingredients. All jackets over 15 PSI are manufactured to ASME requirements. The specific construction depends on the heating or cooling medium. Flow bars are used for uniform temperature control.
No customer reviews for the moment.