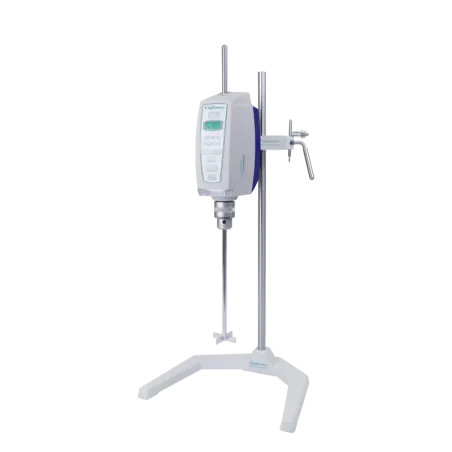  
Caframo Reversing Overhead Stirrer
1/15 hp (50 Watts)
40-2010 rpm
90 Ncm (127 in-oz)
25 L (6.5 US Gallons)
Ultimate versatility with programmable clockwise and counterclockwise stirring. Digital control optimizes polymerization, crystallization, and QC/QA testing. Countdown timer, cycle timer, adjustable chuck up to 10 mm (⅜"), quiet and maintenance free.
*Shaft, Blade and Stand Sold Separately
Caframo has a history of great innovation in overhead stirrers. The BDC2010 stirrer is no exception and delivers 25% more power than the BDC2002 while keeping the same compact footprint, Stirlight™ and through shaft. The BDC2010 works smarter and allows the user complete mixing control. The stirring direction can be changed with the touch of the reversing button. The countdown timer times a stirring activity and beeps when completed. In xRxmode the stirrer is set up to continuously reverse from one direction to the other for a set length of time. (Picture the agitation mode of a top loading washing machine!)
No customer reviews for the moment.