Dispersion Rules of Thumb
77

Views
Posted on:
09/26/2014
The blade diameter should be roughly 1/3rd the diameter of the vessel.
Normal blade is speed is targeted at 5200 fpm (feet per minute).
Typical disperser power requirements are in the range of 10 HP per 100 gallons of product.
Position blade 1/2 of the blade diameter off the tank bottom
Liquid level should be 1 1/2 blade diameters above the blade
Blade should be centered in the tank
Allow for product vortexing to prevent material from splashing over the top of the tank. 20% freeboard is recommended.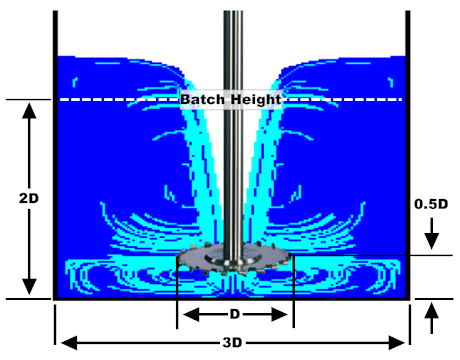 While the above "Rules of Thumb" present a very good starting point, this should not be the sole consideration in specifying dispersion power.
More detailed information can be found on the following pages.  We also offer a Horsepower Calculator to assist in your disperser sizing.