Specifying Disperser Blades
45

Views
Posted on:
10/18/2020
Blade Style: Most dispersion blades are formed from a circular disk of material, typically 304 stainless Steel. Teeth are formed around the perimeter of the disk by cutting slits into the disk and bending th resulting tabs. These blades perform several functions:
shear - The flat center disk accelerates materials toward the outer edge of the blade. Due to the high tip speeds of the blades, material is rapidly accelerated to speeds of 4000 - 5000 feet per minute.
flow - The blade teeth expose a surface which serves to pump material in the tank. The size of the teeth and angle affect the pumping capacity of the blade.
impact - the teeth also serve as a source of impact for the agglomerates. The particles accelerated by the surface of the disk impinge on the blade teeth helping to break agglomerates.
Others are fabricated from multiple sheets and machined to various profiles. While still others are cast or machined from various polymers. The Dispersion Blade section of our catalog provides more detail on the various blade types.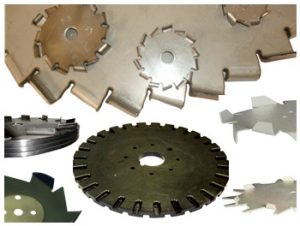 Blade Diameter: The diameter of MOST blades is measured from the outer most perimeter
Disperser Power: Both blade style and diameter together with the properties of the product being mixed contribute to the overall power required to drive the dispersion blade.
Blade Bore: In order to transfer torque from the mix shaft to the blade, manufacturers use a number of configurations holes, keyways and at time hubs. Additional detail can be found here.

Material of Construction: Most of our blades are 304 stainless steel, we do offer 316 stainless steel as have supplied more exotic materials such as hastalloy in the past. Aside from these we do supply polymer blades in HDPE and Urethane as well. Contact us with your particular requests.

Wear Resistant Options: Due to high tip speed of the dispersion blade, dispersion blades are subject to wear. Depending on formulations this wear can be severe. DisperseTech offers several options to enhance wear characteristics. 
The following link will assist you in specifying your bore: