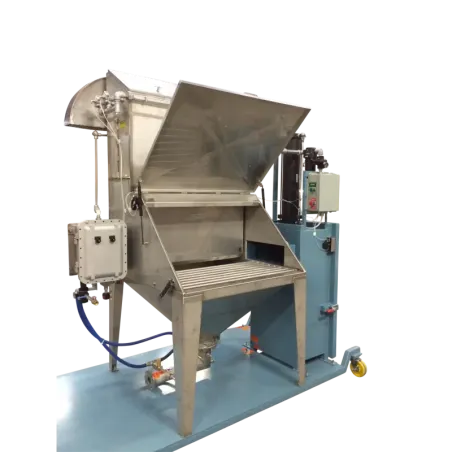  
Bag Dump Station
The bag dump stations are designed to provide maximum dust control for all powdered materials.  They can integrate with your plants central dust collection system or supplied as completely self contained units.   Self-contained filter bag dump station comes complete with automatic pulse jet cleaning. The bag dump stations can be furnished in Carbon steel stainless steel or aluminum construction.
Bag Dump Stations allow dust-free handling of powders and granular materials. Benefits of Bag Dump Stations include: • Dust-free material handling
Improved safety and minimized health risks and reduced exposure to materials being handled
Protection of the environment from hazardous materials
Increased quality of your final products and the working environment 
Systems can be designed to discharge materials from bags, drums, and other containers.
These units include integrated dust hoods. The Bag Dump can function as a self contained system with integrated dust filter or connected to your central dust collection system.
The station can be flange mounted to discharge directly to your tank, or supplied with various conveying systems to transfer material to your tank or downstream process. The conveying options include: mechanical conveying, pneumatic conveying, and Stinger Fluidized Conveying of your products. We can include Empty bag compacters and glovebox to further improved containment.
No customer reviews for the moment.