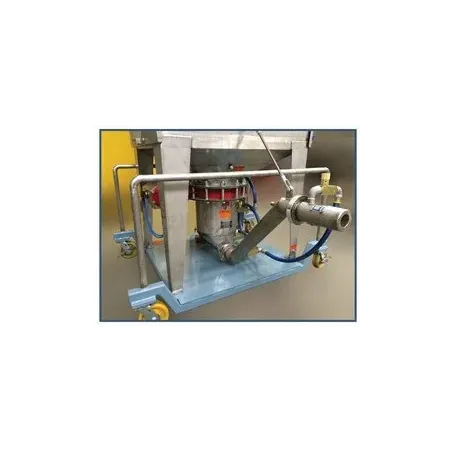  
Stinger Pump
The Stinger® Pump is a good choice for: 
Unloading fine powders from bulk bags to process vessels 
Transferring powders from paper bag dump stations to process vessels 
Processes that require inert gas blanketing of powder 
Conveying applications where space is limited 
Conveying applications with multiple discharge destinations 
When conveying vertically and weighing is required
Young Industries Patented Stinger® Convey System utilizes Transflow fluidization media in product contact areas of the system to fluidize and condition fine powders. In a fluidized condition, powder flow properties change so that conveying requires less energy than other types of pneumatic or mechanical systems. The Stinger® convey tubing is completely lined with Transflow fluidization media so that the powder being conveyed retains it fluidized properties from powder being conveyed retains it fluidized properties from inlet to discharge. Our unique Patented double-bedded fluidization process gives the Stinger® system the ability to control and distribute fluidization gas through-out the system. Simple… . Reliable… . Low velocity conveying.
No customer reviews for the moment.