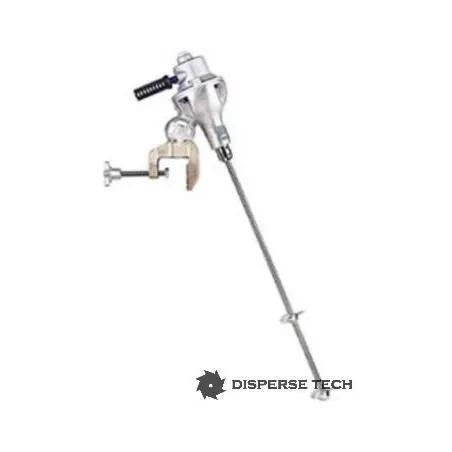  
Model DA Direct Drive Air Mixer
Mix-Mor Incorporated Model DA Portable Direct Drive Air Mixer
MixMor Offers high quality, heavy duty portable air mixers ranging from 1/3 to 4 hp. With shaft diameters from 5/8" through 1-1/4", we can handle even the toughest products.
* see table below for specifications on the individual mixers.
Mix-Mor Incorporated Model DA Portable Direct Drive Air Mixer
MixMor heavy-duty direct drive mixers use standard NEMA C face motors mounted on aluminum drive housings. The housing encloses a double sealed ball bearing, with a lower lip seal for additional protection, to provide outboard support for the quill shaft which is subject to stresses from the mixer shaft. Mixer mounts with a heavy-duty brass clamp with handwheels for fastening, thus eliminating the need for special tools or wrenches. The clamp and drive housing have a ball and socket assembly to allow 360 rotation on the horizontal plane and 100 on the vertical plane for optimum mixer shaft angle. 
Model
Power Source
Mixer
Shaft
Impeller
Quantity / Diameter
weight
hp
rpm
Single
Dual
DA-13
40 psi, 22 cfm
⅓
300-1800
5/8" x 36"
4½"
4"
30
DA-11
80 psi, 40 cfm
1
300-1800
5/8" x 48"
6½"
6"
36
DA-2
80 psi, 70 cfm
2
300-1800
7/8" x 60"
7"
6½"
65
DA-4
99 psi, 135 cfm
4
300-1800
7/8" x 60"
8"
7½"
88
Many options are available:
Housings: Aluminum alloy housings with heavy duty, corrosion resistant brass clamps. Available in stainless steel or other alloys.

All Stainless Steel Mixers

 

Coated Shaft and Impellers

Sanitary Finishes

Shaft and Impellers in other Alloys

 

Stainless Steel Motors

USDA Accepted Models

Impellers:

Marine Props, hydrofoils, pitched and flat blade turbines, and dispersion blades are available.
Contact us with your requirements, we would be happy to prepare a suitable design for your application.
No customer reviews for the moment.