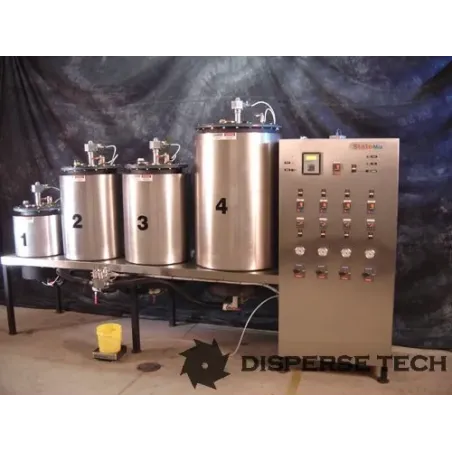  
StateMix Flex Cell Station
Statemix automated hand-pour dispenser is designed for processing a variety of hot cast or room temperature polyurethane or epoxy materials in a compact and economical workstation.
To dispense the material, the operator simply places his container on the digital scale located under the valves and enters the total pour amount and the required ratio of the second component. The computer will calculate the amounts of prepolymer and curative, then turn on the prepolymer valve and begin reading the changing value of the scale (each material is moved from the tank by applying 5-10 PSI nitrogen in each tank).
When the required amount of prepolymer is transferred to the pail, the prepolymer valve is closed and the curative valve is opened immediately. As soon as the calculated amount of curative is dispensed into the pail, the dispenser will sound a beeper informing the operator to retrieve the pale from the scale and manually mix the material and pour it in the molds. Each pour can vary from pound to 50 pounds, making the machine feasible for both small and large hand pours. The accuracy of the machine is 2% of the total weight and 0.2 points of the set ratio.
Due to simplified design and low number of moving parts, the dispenser is extremely easy to maintain and operate.
No customer reviews for the moment.