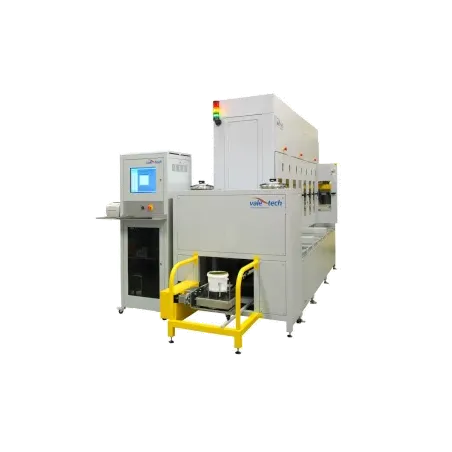  
Vale-Tech PO - Press Out Ink Dispenser
The PO system is typically used in an ink companies facility to produce high quality, highly accurate batches of paste ink on a 'just in time' basis, for shipping direct to the customer.
The PO dispenser is a medium duty, integrated press-out system, designed for high viscosity printing ink ranges such as offset and concentrates.
Bringing high reliability, compact size and simple operation together, Vale-Tech has designed the ideal vehicle for higher productivity, reduced ink wastage and significantly improved colour control.
The PO is constructed as a standalone, fully integrated machine incorporating up to 24 ink reservoirs, each with a capacity of 20Kg.
It is compact in design with a footprint of 140mm x 2,500mm for a typical 12 colour system.
Options are available for external pumped modules to allow the dispensing of all bulk components such as high
pigmented base inks, varnishes and extenders from 205 litre barrels or IBCs.
No customer reviews for the moment.