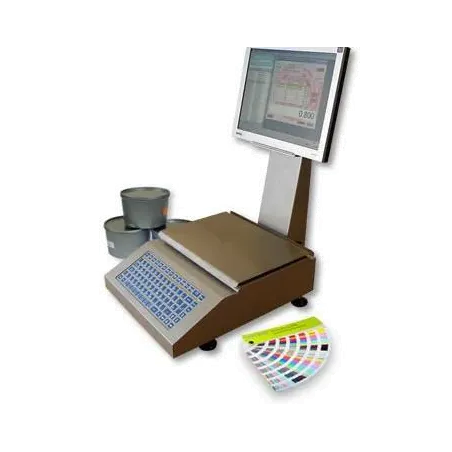  
Vale-Tech Integra 2
The INTEGRA 2 Manual Blending Scale & Computer Incorporates the same Vale-Tech Ink Manager Software as their larger systems.   The system allows special batches to be weighed quickly and accurately.  
INTEGRA 2 is a complete Ink Management and Color Control work station linked to the Vale-Tech Ink Manager™ Windows based software.
This compact, integrated computerised balance incorporates all of the benefits of a high specification PC and a high accuracy scale in one package. Its small footprint occupies the minimum of bench space.
Built to operate in hostile conditions, the weigh pan is manufactured in a high quality stainless steel with the case protected by a hard wearing, polyester powder coat incorporating a solvent safe, polyester based membrane keyboard.
Vale-Tech's Ink Manager™ is a powerful software package meeting all the data storage and retrieval requirements of a modern in-plant dispense system with extensive reporting and costing utilities.
This system combines accurate weighing with a comprehensive Formula database and full Stock Control features. Integra 2 ensures colors are mixed quickly, accurately and consistently every time; saving time, ink and improving quality!
No customer reviews for the moment.